MESSAGE TO STUDENTS FROM BHS PRINCIPAL:
Below you will find the opening day Flex Block schedules as reflected in our planner.  With the exception of Ambassadors, seniors do NOT have to arrive to school on the first day (September 3rd) until 8:50.  As you already know, Arena Day is tomorrow (Tuesday, 8/27) from 8:00-11:00 am in the cafeteria.  Please plan on coming to Arena Day if you have scheduling issues to address.  If you are away or unable to attend and still require a schedule change, the guidance team will be available to assist you at the start of school.
Our Challenge Success and equity work will continue for the 2019-2020 school year as we aspire to help you find balance and engagement in your learning and in life.  We look forward to sharing our goals and vision for the year with all of you at our student assemblies during Flex on the first two days of school.
This year, we also welcome some new staff and faculty members.  Their biographies are included in this communication (just scroll down).  Mr. Casey, Mr. Hudder and I have been working diligently this summer to make sure the opening of school goes as smoothly as possible.  We are so looking forward to a full building next week and to the new year as well.
Feel free to reach out to one of us with any questions.  Also, please make a habit of reading your email for important updates about school news, clubs, sports and student meetings. It is important way to stay connected and know what is going on in our school community.
Enjoy the final days of school vacation!  See you soon.
Best,
Mrs. Galante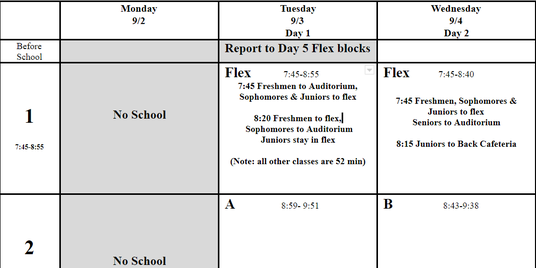 9/3 Schedule
Flex (Day 5 teacher) then Day 1 schedule A, B, C, DE, E
9/4 Schedule
Flex (Day 2 teacher) then Day 2 schedule, B, BC, D, DE
NEW FACULTY AND STAFF
Ms. Berejik will be joining us as the STEP counselor.  She comes to us from Learning Prep School where she was a counselor and utilized a psycho-educational model to teach health curriculum. Prior to Learning Prep, she worked in an outpatient setting with Health and Outpatient Services, Inc.  She did her internship work in the Chicago area focusing on at-risk youths. 
Ms. Calabro will assume the position of school counselor for the students currently assigned to Ms. Milano during her maternity leave. Bright, energetic, and committed to students, Ms. Calabro is an excellent addition to our counseling team. She completed her practicum in school counseling at Andover High School and has prior experience covering a counselor's leave.
Ms. Chacko will be joining the World Language staff teaching Spanish while Anna Bueno is on leave for the year. Jasmyn is a NY native and holds a Bachelor's degree from Syracuse University. While studying abroad, she worked as an English and Science teacher in Madrid. She recently completed her graduate work at Boston University and completed her practicum at the Warren-Prescott School in Charlestown.
Ms. Costopulos joins us as a 0.4 Social Studies teacher so that Jim Sunderland in his capacity as the BEA president.  She also will join the AAC/Skill Center as a Teaching Assistant for the remainder of her day. Ms. Costopulous earned her B.A. in History and Secondary Education from Bridgewater State University and completed her student teaching at Burlington High School.  During her time at Bridgewater State University, she worked for Earth View, teaching about the earth at schools throughout Massachusetts. She also studied abroad in Florence, Italy. She recently worked as a Learning Center Teacher and Building Teaching Assistant at Arlington High School.
Ms. Cullinan will serve as one of our 5-day permanent substitutes. She is a recent graduate of the Bridges to the Future program at UMass Amherst with a masters' in education. She has also acquired her license to teach history (8-12). As a student intern at Frontier Regional High School in South Deerfield, Holly taught several history courses and demonstrated a desire to become more involved in the school community, serving as a class advisor.
Ms. Gordon will be a Teaching Assistant in our Skill Center/Academic Achievement Center.  She is a 2017 Graduate of Anna Maria College in Paxton, MA where she majored in Art Therapy with a minor in Psychology. She enjoys working with young people and has years of experience through her Church and Internship. She strongly believe that with each day comes a new opportunity to learn and as she strives to get her masters in Early Childhood education. Danielle is excited to embark on this new Journey at Bedford High School.
Ms. Gould will be greeting students in the counseling office this fall, covering Ms. Mulcahy's maternity leave.  Recently retired from the position of Registrar and AP Coordinator at Andover High School (after 18 years), Ms. Gould comes to BHS with experience working in a busy academic environment, coordinating activities with other staff members, and working directly with students and parents.
Ms. Herlihy is our new TA in the Bridge program. This spring Linda earned her BA from Bates College, majoring in neuroscience and minoring in education. She has served as a research assistant at the Harvard Lab of Developmental Studies, and last year she was at Lewiston High School as a student teacher, teacher's aide, and assistant coach for both basketball and lacrosse.
Ms. Kohanyi is a new PT French teacher in the WL department this year. Adele is originally from France, but now lives in Acton with her family. Adele has a Bachelor's degree in French, as well as a PhD in Developmental Psychology. Most recently she taught psychology at the university level, including a class on the Psychology of Adolescents. She is passionate about the French language and its literature and is excited to be starting out her first year in this new field.
Ms. Loveless-Patterson will be one of our 5-day permanent substitutes. Ms. Loveless-Patterson lives nearby on Hanscom AFB and also has a rising 9th grader who is joining us this year. She holds a masters' in education from the University of LaVerne in California and brings an extensive worldview and experience. She has classroom teaching experience, working at MDQ Academy in Brentwood, NY and most recently worked as a substitute with Lincoln Public Schools.
Mr. McAfee is joining BHS in our Campus Aide position. As a Bedford High graduate, Mr. McAfee knows the school and greater community well. He has a background in Counseling Psychology from Johnson & Wales University. Justin has an enthusiasm for helping others as well as a wealth of experience working with young adults as a mentor during his time as a student-athlete in college and as chapter president of his social fellowship.
Ms. Metivier is our new Administrative Assistant in the Special Education Office.  Previously she served as an office administrator at Immanuel Church in Chelmsford.  She is a proud mom to three children and resides in Billerica with her family.  
Ms. Morris will be splitting her time between the Library and AAC/Skill Center as an Educational Assistant.  Ms. Morris recently graduated from UMass Lowell with a BA in English/Creative Writing and a minor in Psychology.  She served as the president of the university's Writers for Better Writing Club and recently worked for 18 months as a literary intern for two literary agencies out of New York City.  Ms. Morris studied behavior/learning and disabilities as part of her minor in psychology. She is excited to apply her experiences and knowledge to her position at Bedford High School. 
Dr. Rabold is our Secondary Literacy Program Administrator for grades 6-12. Dr. Rabold holds a B.A. in English from the University of Richmond, a M.A. in English composition from Northeastern University and a Ed.D from Boston University in Literacy and Language with a minor in Educational Leadership. Before taking on this leadership role in Bedford, Dr. Rabold served as a consultant for Keys to Literacy, Director of English Language Arts in both the Everett Public Schools and Masconomet Regional School Districts and has over twenty years of experience as an educator in rural, suburban and urban school districts. 
FAMILIAR FACES-new positions
Ms. DellaValle is returning to Bedford High School as the Program Administrator for Special Education, a role she previously held two years ago.  She returns to us from Lane School and we are thrilled to have her back.
Ms. Dill is now officially a special educator in our STEP Program.  She transitioned from our Bridge Program last year and the move is now permanent for the upcoming year.
Ms. Duffy-Protentis will return in her role as our Athletic Trainer.  However, she will also be joining the Science Department as part-time Biology teacher.  
Ms. Kalantari has served in the position of Program Administrator for pre-school services.  Since pre-school is now a part of Davis School, Tanya has accepted a new role as the Out of District Coordinator for Special Education.  Her office will be in the Special Education suite.  
Ms. Miller previously served as a Teaching Assistant in the Bridge Program.  She will now be working as a teaching Assistant in the STEP Program.  
Mr. Spirn was also a Teaching Assistant in Bridge Program, but covered a long term teacher substitute position last year.  He will now be joining the Skill Center/Academic Achievement Center team as a teacher.