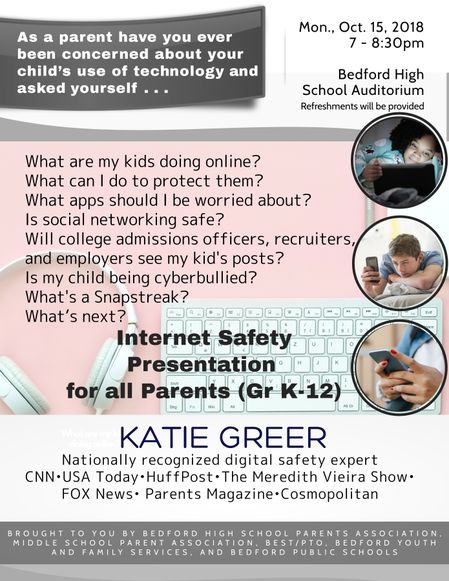 The BHSPA and other PTOs of Bedford, specifically, BEST/PTO for the elementary schools and the Middle School Parent Association, as well as Bedford Youth and Family Services and the Public Schools, were very pleased to bring speaker Katie Greer to town.
During the morning and afternoon of October 15, 2018, in the Bedford schools, Katie spoke directly to the students during assemblies at JGMS (Gr. 6, 7, 8),  BHS (Grades 9, 10, 11 & 12), and Lane (Grades 4 & 5.)  There was a Parent Presentation at BHS Auditorium that night.   
HIGH SCHOOL PRESENTATION:
High school kids have seen it all and really are in the thick of creating online reputations, whether they know it or not. What they often don't understand is that people besides their friends, such as colleges, law enforcement, principals, parents, and potential employers, may be looking in on these behaviors regularly. With everything today being chronicled on social media, it's important that students this age fully understand where things go and how it can impact them today or 5-10 years down the line.
The High School presentation featured an interactive program that invited students to share their personal experiences as Katie shared hers, plus:
Parent Chat
Our kids are doing WHAT? What can I do to protect them? Katie helped parents navigate the digital waters and let us know what's new, what's now, and what's next when it comes to our children and technology, and provided parents with proactive initiatives to keep kids safe.  Heather Thacore of BEST/PTO also discussed some of the benefits of the Bedford Promise movement to wait until at least 8th grade to give a child their own personal data device.  Here are items briefly covered during the parent program: