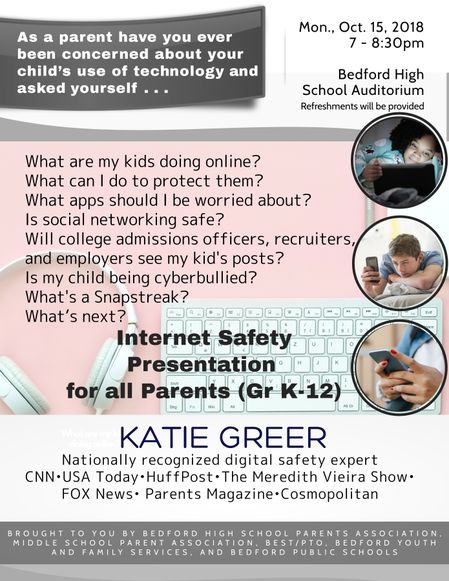 During the day, in the Bedford schools, there will be Internet Safety Assemblies as follows:
JGMS (Gr. 6, 7, 8) - 7:50 - 8:35 AM; 8:50 - 9:35 AM

BHS (Grades 9, 10, 11 & 12) - see this schedule for the modified school day including the Safety Assemblies:  https://drive.google.com/open?id=1kwlY-JITNb64Ca1btNHKXIZOYhgKMMjJ
IMPORTANT: To accomodate the scheduling of the Safety Presentation at the other schools, BHS has to modify the 10/15 school schedule. Flex Block will not be in the morning. Instead, it will be moved to the lunch block.  Therefore, all BHS students, including seniors, must come to school at the start of the day on Monday, 10/15. 

Lane (Grades 4 & 5) -  1:45 - 2:30 PM

Parent Presentation at BHS Auditorium: 7:00 - 8:30 PM   
HIGH SCHOOL PRESENTATION:
High school kids have seen it all and really are in the thick of creating online reputations, whether they know it or not. What they often don't understand is that people besides their friends, such as colleges, law enforcement, principals, parents, and potential employers, may be looking in on these behaviors regularly. With everything today being chronicled on social media, it's important that students this age fully understand where things go and how it can impact them today or 5-10 years down the line.
The High School presentation features an interactive program that invites students to share their personal experiences as Katie shares hers, plus:
Parent Chat
Our kids are doing WHAT? What can I do to protect them? Katie will help you navigate the digital waters and let you know what's new, what's now, and what's next when it comes to your children and technology, and provides parents with proactive initiatives to keep kids safe.  She will also discuss some of the benefits of the Bedford Promise movement to wait until at least 8th grade to give a child their own personal data device.
The following is an example of what is covered during this session: