The BHSPA will hold its annual meeting jointly with the John Glenn Middle School Parent Association (MSPA) on Tuesday, May 26th at 1:30pm. All BHSPA and MSPA parents and guardians are welcome to attend the joint meeting via Zoom call. If you are interested in attending, please email  bhsbucsparents@gmail.com and we will proved the Zoom link. 
There will be a recap of each board's activities in the past year, and we will hold elections for next year's boards. This is a great time to get involved! 
Click here to see a sample of things we have done recently.  We urge you to peruse this website for more information about our activities. 
For the upcoming school year, the following positions are open: Co-president, Co-vice President, Secretary and Fundraising.
Contact us at bhsbucsparents@gmail.com to get more information and/or throw your name in the hat to run for a position. We hope you will get involved with us!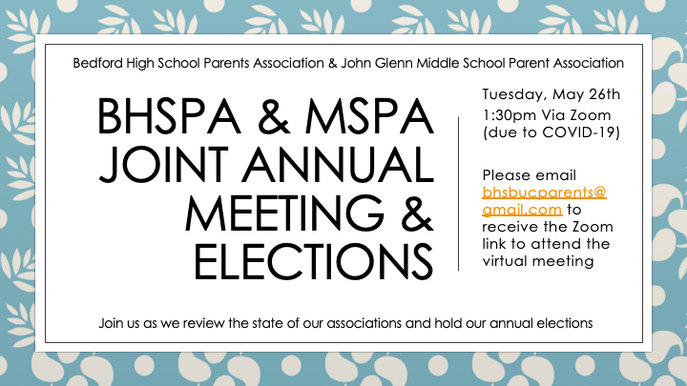 ---