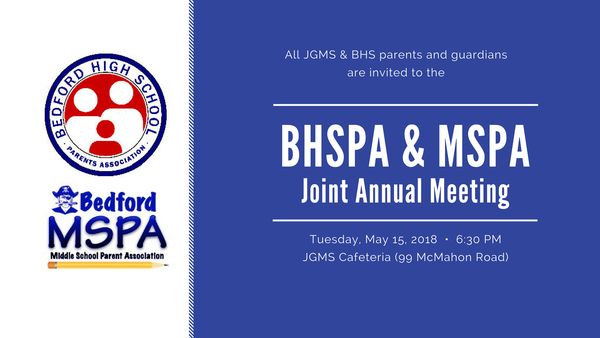 The BHSPA will hold its annual meeting jointly with the John Glenn Middle School Parent Association (MSPA). All BHSPA and MSPA parents and guardians are welcome to attend the joint meeting at 6:30 pm in the JGMS Cafeteria located at 99 McMahon Rd. 
There will be a recap of each board's activities in the past year, a review of the budget, plans for next year, and elections of officers. There are a number of open board positions in the coming school year.  If you are interested in any of the open positions, please send an email to either the BHSPA at bhsbucsparents@gmail.com or the MSPA at jgmsparents@gmail.com.
SPECIFIC TO THE BHSPA:  If you are unfamiliar with the BHSPA, we are a group of BHS parents who volunteer to meet monthly (first Monday of every month), fundraise and provide enrichment opportunities in support of the school, and facilitate communications between the school and BHS parent community.  Click here to see a sampling of things we have done recently.  We urge you also to peruse this website for more information about our activities.  
For the upcoming school year, the following positions are open: Co-President, Treasurer, eNews Coordinator, as well as Chairs or Co-Chairs for the Fundraising and Senior Parents Sendoff Committees. Contact Co-President Michelle Saber at bhsbucsparents@gmail.com to get more information and/or throw your name in the hat to run for a position. We hope you will get involved with us!  Thank you.