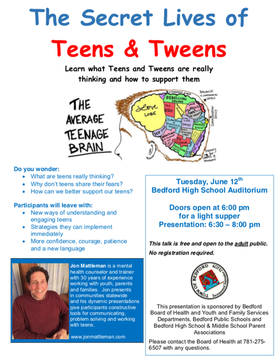 The Secret Lives of Teens and Tweens Presentation June 12 
Do you wonder:
What are teens really thinking?
Why don't teens share their fears?
How can we better support our teens?
Jon Mattleman, a mental health counselor and trainer with 30 years' experience working with youth, parents and families, will be at Bedford High School Auditorium on Tuesday, June 12, to help answer those questions. Participants will leave with new ways of understanding and engaging teens, strategies they can implement immediately, and more confidence, courage, patience, and a new language.

The doors will open at 6 p.m. with a light supper, and the presentation will be from 6:30 - 8 p.m. This presentation in the Bedford High School Auditorium is free and open to the adult public. No registration is required.

This presentation is sponsored by Bedford Board of Health, Bedford Youth and Family Services,  Bedford Public Schools, the John Glenn Middle School Parent Association, and the BHSPA. 
Please contact the Board of Health at 781-275- 6507 with any questions.