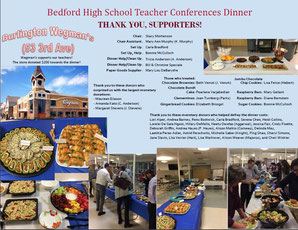 December 7, 2017, was a very busy night at Bedford High School.  Parents and guardians attended Teachers Conferences, and to assist in locating rooms around the school, student ambassadors pointed adults in the right direction.   
In addition, Principal Heather Galante and Assistant Principals Christine Lennox and Kate Boynton held two information sessions (5 & 7 pm) which explained and answered questions about the new school attendance and tardy policies.  Their PowerPoint is found at https://goo.gl/uVQt9t.
In case you missed the attendance policy info sessions, Bedford TV filmed the 5 pm session, which is posted on Bedford TV's YouTube Channel: https://www.youtube.com/watch?v=qkGFJC0CaXg.  We thank Bedford TV for the taping.
Since most teachers remained in school after work and had no time to go out for dinner, the BHS Parents Association, led by Hospitality Chairs Stacy Mortenson and Mary Ann Murphy, with the help of many parents/guardians, put together a Grab and Go Dinner for the teachers. The teachers loved everything and expressed their appreciation of the BHS parent community to the volunteers who were present at the dinner. 
Please see our thank you shout outs https://goo.gl/QqTzzk and a statement from our Co-Chairs:
Thanks so much to all the parents who helped make the BHSPA Teacher Conference Dinner run so smoothly.  The teachers had a wonderful, quick grab and go dinner before they headed out for more conferences.  Many were seen heading out with some of the great homemade goodies.  Thanks also to Wegman's for defraying some of the cost for the dinner.  Thanks to the trusted set-up, clean-up and diner crew, Bonnie McCulloch, Tricia Anderson, Claire Demeo and Bill & Christine Speciale.  Thanks to those who made the yummy deserts: Diane Bernstein, Elizabeth Brosgol, Lisa Felice, Mary Gallant, Bonnie McCulloch, Joan Turnberg, Pearlene Varjabedian, and Beth Venuti.  Mary Lou DeBaryshe provided all the paper goods we needed for the night, thank you! 
Finally, thank you to all those who donated funds to help us reach our budget goal.  Lori Alper, Andrea Barney, Renu Bostwick, Carla Bradford, Serena Chen, Heidi Collins, Lorelei De Gala Ngooi, Hillary DeMello, Neetu Devdas, Maureen Eliason, Jessica Fair, Cindy Fisette, Deborah Griffin, Andrea Hayes, Amanda Kato, Alison Malkin, Delinda May, Laetitia Perez-Alder, Astrid Reischwitz, Michelle Saber, Ping Shao, Cheryl Simons, Jane Slavin, Margaret Stevens, Lita Verrier, Lisa Warhover, Alison Weaver, Cheri Winkler. 
Thanks again to all,
Stacy Mortenson and Mary Ann Murphy, Hospitality Co-Chairs