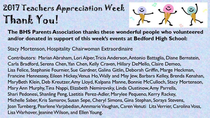 While this has been a week to thank our teachers, administrators, and staff for their dedication to our students, we also want to thank all of the awesome parents/guardians who helped make the BHSPA Teacher Appreciation Week events run smoothly, in particular Stacy Mortenson, our Hospitality Chairwoman.  
The teachers had a wonderful lunch with great homemade salads and goodies on Wednesday, and today, they were treated to a tasty frozen treats at lunch. We received many thanks and much appreciation from the teachers for the lunch,  homemade goodies, and ice cream.  
Several teachers asked us to convey to the parent community their appreciation for the donations and kindness shown this week. One teacher commented that she is new to the Bedford Public Schools District and has found our parents/guardians to be welcoming and engaged. Thanks, folks!